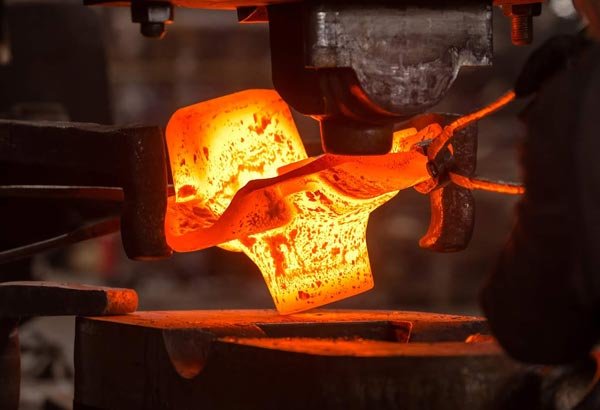 In short, a hot forging service is a service process that uses the hot forging process to complete the processing of forgings. The general way is to use an electromagnetic induction heater to heat a steel bar or billet to a specific temperature to change its plasticity; for forgings with relatively complex shapes, they need to be beaten several times by a forging hammer to slightly adjusting them (this process can be called free forging), Then put it in the mold. Relatively simple forgings can directly put materials into the mold and close the mold, which can make rough forgings. We can divide the forging process into open or closed die forging according to the different molds. Getting the final forgings also need machining and surface treatment.
Team Strength:
Technical Team:
Average working age over 15 years;
Can formulate suitable hot forging production solutions according to drawings and production requirements to shorten the production cycle on the premise of ensuring product quality so that you can receive the goods faster.
Production Team:
Average working experience of more than 10 years;
Can skillfully complete the hot forging process and the production of orders in strict accordance with the production requirements to complete the orders faster with a higher yield.
Quality Control Team:
Average working age over 20 years;
Can skillfully use various testing instruments and track order production throughout the process to control the pass rate of hot forgings in the entire order to ensure that the pass rate of the order meets your requirements.
Freight Team:
Average working age over 10 years;
Having a warehousing center to provide better freight services, you can choose the freight method according to your city to ensure that you can save more freight costs while meeting your requirements.
After-sales Team:
Harobustrong and comprehensive service ability;
Can provide excellent after-sales service and quality assurance services.
Our Hot Forging Service Below:
HULK Metal Hot Forging Service Capacities:
Manufacturing

According to Drawings

Process

Forging: Hot Forging, Free Forging, Die Forging,

Machining,

Surface Treatment.

Materials

Steel: Carbon Steel, Stainless Steel, Alloy Steel, High Carbon Steel.

Surface

Powder Coating, Electro Galvanized, Hot Dip Galvanized, Passivated, Polished, Raw Black

Tolerance

According to Drawings

Industries

Automotive

Construction

Machinery

Appliance

Safety Protection

Electrical

Hardware

Industrial
Factory Capacities:
Hot Forging Service Process:
Custom Solution:
We will better combine hot forging, free forging, die forging, machining, welding, and other processes to formulate a complete production solution according to the drawings and production requirements.
Making Molds and Samples:
We will start to produce molds and samples after communicating with you to confirm that the plan is feasible and send the samples as soon as possible for your testing. We will start mass production of the order after you qualify the forgings are confirmed.
Producing:
The factory will strictly implement the ISO9001 quality management system. The workers are skilled in operating forging machinery. The production of the entire order is also faster due to more comprehensive production solutions.
Quality Control:
The quality inspection team will track the orders throughout the process and test the shape, size, and mechanical properties. Ensure that the overall quality of the order meets your requirements.
Packaging:
We can supply packaging materials such as wooden boxes, carton boxes, plastic boxes, and so on, and fill the box with a foam sponge, bubble paper, foam plastic, etc. Protect the surface of the product.
Delivery:
We will inspect the goods before delivery, check the quantity and quality of the goods, and transport them to the destination port after confirmation. We work closely with shipping companies to get preferential logistics prices. If you need it, we can make the freight route.
After Service:
HULK Metal provides lifetime after-sales service. We are responsible for any products with quality problems. We will provide various solutions, such as returns, exchanges, and replenishment. Specific measures will be negotiated with you and implemented to ensure your satisfaction.