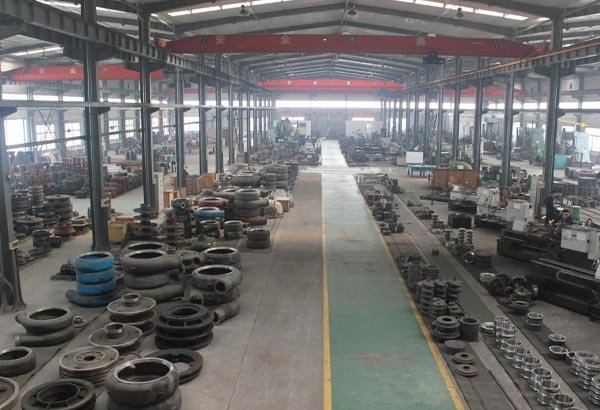 HULK Metal Pump Parts Manufacturing Service
The manufacture of pump casings and impellers requires a combination of casting, machining, and surface treatment. The production of a pump requires the joint efforts of many factories to complete. HULK Metal has been engaged in lost foam casting, coated sand casting, and other casting services since the second half of the 20th century, and has supplied hundreds of pump suppliers with the manufacturing service of centrifugal pumps, pipeline pumps, and sewage pumps. Our factory has passed ISO9001 quality management system certification and has an experienced production team that can fulfill your order faster with higher quality.
HULK Metal has established a complete supply chain to provide you with all services from raw material procurement to after-sales.
HULK Metal will continue to improve the service quality so that you can have a better purchasing experience.
Team Strength:
Technical Team:
Average working age over 15 years;
They know which process to use for each part of the pump to achieve quality while reducing costs.
Production Team:
Average working experience of more than 10 years;
They can complete the production of each process in strict accordance with the requirements and complete the order with a higher yield.
Quality Control Team:
Average working age over 20 years;
They can skillfully operate various testing instruments to complete the testing of various performance parameters of the product to ensure that the product quality meets your requirements.
Freight Team:
Average working age over 10 years;
They can help you get a great price from the shipping company. It also provides route planning, warehousing, and other services.
After-sales Team:
Has a strong and comprehensive service ability;
Can provide excellent after-sales service and quality assurance services.
Our Manufactured Pump Parts Below:
Our Pump Parts Manufacturing Capacities:
Manufacturing

According to Drawings

Process

Casting: Lost Foam Casting, Resin sand casting, Resin Coated Sand Casting.

CNC Machining, Surface Treatment.

Materials

QT (Ductile Iron) HT (Grey Cast Iron) Cast Steel (ZG25)

Surface

Powder Coating, Electro Galvanized, Hot Dip Galvanized, Passivated, Polished, Raw Black

Tolerance

According to Drawings

Industries

Automotive

Construction

Machinery

Appliance

Safety Protection

Electrical

Hardware

Industrial
Factory Capacities:
Casting Factory;
Machining Factory;
Surface Treatment Factory.
Pump Parts Manufacturing Service Process
Custom Solution According to Drawings or Samples:
We will formulate a complete production solution according to the drawings or samples and your requirements.
Make Molds and Samples:
We will start making molds and samples after finalizing the solution and price. We will send you samples for testing. After the samples pass the test, we will start the mass production of the order.
Producing:
The factory strictly implements the ISO 9001 quality management system. Workers will strictly complete each production process to complete orders faster with higher yields.
Quality Control:
We will strictly control the quality of each batch of orders. The quality inspection team will track the production of the order and test the performance of the product to ensure that the quality of the product meets your requirements.
Packaging:
We can provide packing boxes made of paper, wood, and other materials, as well as various packing fillers. Besides, we also provide packing and printing services to meet your packing requirements.
Delivery:
We will temporarily store the goods in our storage center, and you can decide the quantity and time of delivery according to your actual needs. Our freight team works closely with freight companies and can get great prices for you.
After Service:
HULK Metal provides lifetime after-sales service. We are responsible for any products with quality problems. We will provide various solutions, such as returns, exchanges, and replenishment. Specific measures will be negotiated with you and implemented to ensure your satisfaction.
Pump Parts HULK Metal Has Manufactured: