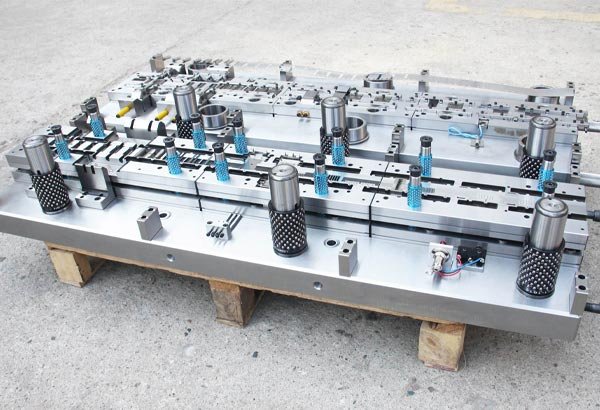 Precision stamping is a process to obtain precision metal stamping parts by improving the guiding accuracy, reducing the gap between male and female dies, increasing the reverse pressure and V-ring blank holder to achieve the condition of strong three-dimensional stress on the basis of the common stamping process, and under the above conditions, completing the stamping or stamping combined with other forming processes.
HULK Metal has provided precision metal stamping services worldwide for over 16 years and has provided high-quality precision metal stamping parts to buyers in the manufacturing and construction industries of electronics, home appliances, automobiles, furniture, machinery, etc. We have a technical team, production team, quality inspection team, shipping team, and after-sales service team to provide you with perfect service. The factory will strictly implement the ISO 9001 quality management system. We will take every order seriously, listen carefully to your every requirement, and strictly complete every product.
Team Strength:
Technical Team:
Average working age over 15 years;
They are familiar with the precision stamping process and can formulate complete production solutions according to samples or drawings.
Production Team:
Average working experience of more than 10 years;
They are proficient in precision stamping production skills and can skillfully operate punches, CNC machines, and other equipment to complete orders faster.
Quality Control Team:
Average working age over 20 years;
They will track the production of orders throughout the process and complete the inspection of every detail of precision stamping parts strictly according to your requirements.
Freight Team:
Average working age over 10 years;
They have more shipping company resources and can provide lower freight costs. They can provide perfect shipping service.
After-sales Team:
Has a strong and comprehensive service ability;
They have professional service capabilities and can solve various problems for you faster.
Our Precision Metal Stamping Services are Below:
Precision Metal Stamping Service Capacities:
Manufacturing

According to Drawings

Process

Stamping: Blanking, Bending, Shearing, Deep Drawing, Expanding, Spinning, Straightening.

Machining: Turning, Milling, Drilling, Customized

Surface Treatment.

Materials

Steel Plate: Carbon Steel Plate, Stainless Steel Plate, Alloy Steel Plate, High Carbon Steel Plate.

Iron Plate: Cast Iron Plate, Ductile Iron Plate, Gray iron Plate.

Aluminum Plate.

Copper Plate: Copper Plate, Copper Alloy Plate.

Surface

Powder Coating, Electro Galvanized, Hot Dip Galvanized, Passivated, Polished, Anodized, Raw Black

Tolerance

According to Drawings

Industries

Automotive

Construction

Machinery

Appliance

Safety Protection

Electrical

Hardware

Industrial
Factory Capacities:
Precision Metal Stamping Service Process:
Custom Precision Metal Stamping Parts Production Solution:
First of all, after receiving the drawings or samples provided by you, a team formed by our business manager and engineers will communicate with you in detail to deeply understand your needs and then develop a perfect production solution for your precision metal stamping parts.
Making the Molds and Samples of Precision Metal Stamping Parts:
After receiving your advance payment, we will start to make the molds and samples of your precision metal stamping parts. We will send our samples for you to test, then start the mass production of orders after confirming that our samples are qualified.
Producing Precision Metal Stamping Parts:
The factory will start the production of the order under the ISO 9001 quality management system. The experienced production team will strictly complete each production process and complete the production of orders faster with higher pass rates.
Quality Control:
The reason why we can provide stamping services to customers around the world is that we focus on the quality of each product. The quality inspection team will track the whole process of production and strictly control the quality of semi-finished products and finished products in each production process to ensure that each customer's requirements are met.
Packaging Precision Metal Stamping Parts:
The finished product is packaged to a higher standard to protect the surface of the product. We provide packing boxes and various anti-collision fillers in paper, wood, and other materials. Our packaging is customizable. We can develop packaging solutions according to your requirements.
Delivery Methods for Precision Metal Stamping Parts:
We will put the precision metal stamping parts packaged in the warehouse. Our freight consulting team works closely with major freight companies to help you obtain more appropriate freight prices. You can decide the quantity and delivery cycle of each shipment according to your needs.
After Service:
HULK Metal provides lifetime after-sales service. We are responsible for any products with quality problems. We will provide various solutions, such as returns, exchanges, and replenishment. Specific measures will be negotiated with you and implemented to ensure your satisfaction.