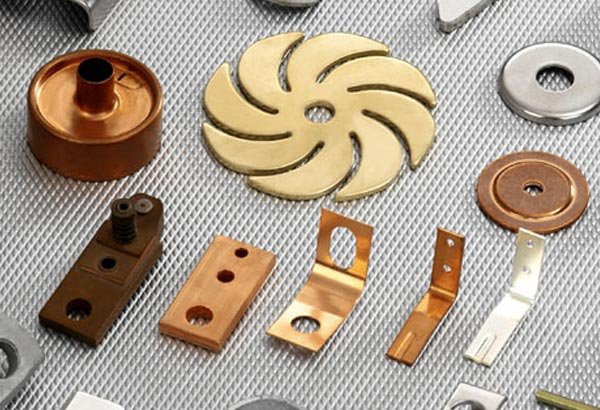 Copper stamping service is a service process in which metal stamping factories use copper, brass, and other copper alloys as raw materials to produce copper stamping parts for customers by blanking, bending, shearing, deep drawing, expanding, spinning, straightening, and other processes.
First, a metal stamping factory with excellent service capabilities needs to have punches with different capabilities to meet the production requirements of different products, secondly, it needs to have enough production equipment and enough production capacity to complete orders faster, and it also needs to have perfect testing equipment to control the quality of products.
As an experienced copper stamping parts manufacturer, HULK Metal not only has advanced production equipment and quality inspection equipment but also has a complete service team to provide you with technical support, shipping support, and after-sales service support. You can enjoy better copper stamping service at HULK Metal.
Team Strength:
Technical Team:
Average working age over 15 years;
They are familiar with the material characteristics of different types of copper alloys. They can formulate perfect production solutions according to the requirements of your drawings or samples, and complete orders faster at lower costs.
Production Team:
Average working experience of more than 10 years;
They have rich experience in copper stamping parts manufacturing and can operate punches and CNC machines proficiently, and can complete orders faster.
Quality Control Team:
Average working age over 20 years;
They can skillfully operate CMM, flaw detector, tension tester, and other quality inspection instruments to strictly complete the inspection of the shape, size, internal structure, and mechanical properties of copper stamping parts.
Freight Team:
Average working age over 10 years;
They work closely with major shipping companies and can deliver finished copper stamping parts to you faster and for less money.
After-sales Team:
Has a strong and comprehensive service ability;
They have rich service experience and have provided professional after-sales service for more than 20 industries such as automobiles, home appliances, machinery, and other manufacturing industries and construction industries.
Our Copper Stamping Services are Below:
Copper Stamping Service Capacities:
Manufacturing

According to Drawings

Process

Stamping: Blanking, Bending, Shearing, Deep Drawing, Expanding, Spinning, Straightening.

Machining: Turning, Milling, Drilling, Customized

Surface Treatment.

Materials

Copper Plate: Copper Sheet, Brass Copper Alloy Sheet.

Surface

Customized


Tolerance

According to Drawings

Industries

Automotive

Construction

Machinery

Appliance

Safety Protection

Electrical

Hardware

Industrial
Factory Capacities:
Copper Stamping Service Process:
Custom Copper Stamping Parts Production Solution:
After receiving the drawings and samples of your copper stamping parts, HULK Metal's technical team will formulate a complete solution according to the characteristics of its material and complexity, and the business manager will communicate with you to determine the final solution and price.
Making the Molds and Samples of Copper Stamping Parts:
After we have made the molds of copper stamping parts, we will produce a certain number of samples and send them to you for testing. We will start subsequent production after you confirm that our samples are qualified.
Producing Copper Stamping Parts:
Our production process is carried out strictly according to the solution. The factory strictly implements the ISO 9001 quality management system, and the experienced production team will complete the production of the copper stamping parts within the required time.
Quality Control:
HULK Metal has an advanced quality inspection center with CMMs, flaw detectors, tensile testers, surface quality testers, electron microscopes and other testing equipment or instruments. We can inspect the shape, size, mechanical properties, internal structure, and surface quality of copper stamping parts in strict accordance with your requirements.
Packaging Copper Stamping Parts:
We will pack the completed copper stamping parts that meet the quality standards. In order to better meet your requirements for packaging, we have established the packaging center to provide you with customized packaging services. You can customize box materials, box filling, and patterns on the box.
Delivery Methods for Copper Stamping Parts:
We support FOB, CFR, and other delivery terms. Our freight consulting team cooperates closely with major freight companies and can obtain lower freight quotations according to your city. We also provide free warehousing services. You can temporarily store the copper stamping parts in HULK Metal, and then ship them as required.
After Service:
HULK Metal provides lifetime after-sales service. We are responsible for any products with quality problems. We will provide various solutions, such as returns, exchanges, and replenishment. Specific measures will be negotiated with you and implemented to ensure your satisfaction.